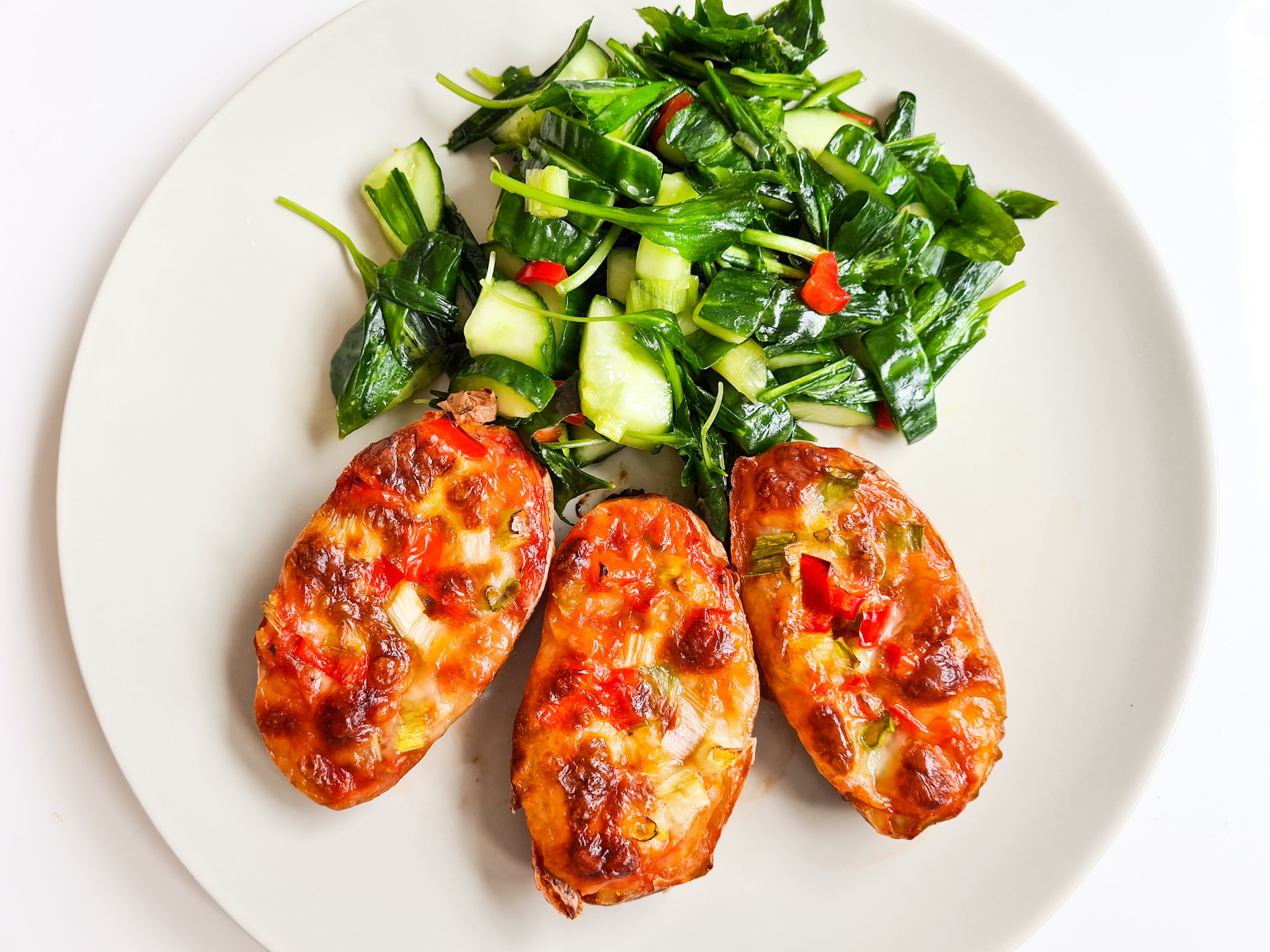 Oven-baked potato boats
Try these gluten-free oven-baked potato boats with fresh salad for a delicious healthy meal. The recipe is suitable for vegetarians.
Potatoes are very nutritious vegetables packed with essential vitamins and minerals, especially vitamin C, vitamin B6, folates, and potassium. One medium potato contains 30 % of the recommended daily vitamin B6 intake.
NUTRITION
Calories: 448 kcal
Carbohydrates: 58.1 g (51.8 %)
Proteins: 26.1 g (23.3 %)
Fats: 12.4 g (24.9 %)
INGREDIENTS
– 350 g potatoes (~2 medium-sized potatoes)
NB! Half of the pulp will be removed!
Tomato sauce:
– 50 g tomato paste
– 1 teaspoon honey
– 1 garlic clove
– dried herbs (oregano, basil)
– pink Himalayan salt and pepper
Filling:
– 125 g sweet bell pepper
– 50 g green onions (you can replace it with red or white onion)
– 80 g Mozzarella cheese (you can replace it with any other light cheese)
Fresh salad:
– 30 g spinach
– 150 g cucumber
– freshly pressed lemon juice
– pink Himalayan salt
– pepper (optional)
– herbs (optional)
DIRECTIONS
1. Wash and dry the potatoes and prick with a fork. Place them on the baking sheet lined with parchment paper and bake in the preheated oven at 200°C/400°F for 50-60 minutes.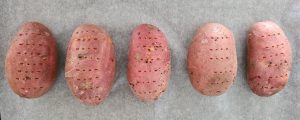 2. While the potatoes are in the oven, chop the red bell pepper and green onions and make the tomato sauce by whisking together the tomato paste, dried herbs, honey, garlic, salt, and pepper.
3. When the potatoes are cooked, cut the them in half and scoop out half of the pulp. NB! You can use the remaining potato pulp to make potato cutlets for another meal.


5. Place some tomato sauce in each boat and add chopped sweet pepper, green onion, and cheese.


6. Place the boats back in the oven and cook until golden brown on top.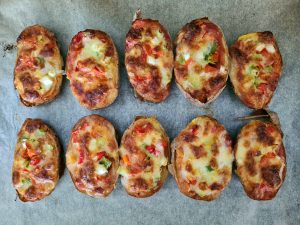 7. Serve with a fresh salad made of cucumber, spinach, and lemon juice.
Enjoy your healthy and tasty meal!