MyInnerGo Sport genetic test covers the following topics:
1. SPORT PERFORMANCE
Anaerobic treshold
Endurance
VO2 max
Power
Hypertrophy response
Basal energy expenditure
Injury risk
Recovery
Lean body mass
The effect of exercise on body weight
Warrior vs worrier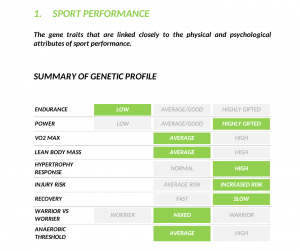 2. MICRONUTRIENTS
Vitamin B12
Bone Mineral Density and Ca Intake
Omega-3
Selenium
Magnesium
Iron
Vitamin D
Vitamin A
Vitamin B9 – Folate
Vitamin B6
3.  WEIGHT MANAGEMENT
Exercises Effect on Weight
4. METABOLISM AND MACRONUTRIENTS
Benefits of MyInnerGo sport genetic test:
Maximize your performance
Improve your training plan
Achieve your goals in the most efficient and scientific way
Choose a sport that better suits your natural abilities
Once in a lifetime test
Comprehensive lifestyle recommendations are given to you using the data arising from your genetic profile and questionnaire. The aim of the recommendations is to give you an action plan and tips to reach your goal and stay healthy. Personal well-being means making right choices and myInnerGo makes it easier!
What kind of trainings better fit your genes?
Is there an elite athlete in you?
How can you avoid injury?
How can you improve your training intensity?
How can you change your body?
How can you use the warrior/worrier in you?
How hard should you train and for how long?