1000
GENETIC VARIATIONS STUDIED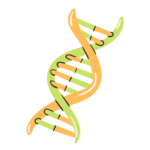 MyInnerGo Weight

€135

Weight Management
Metabolism and Macronutrients
Caffeine
Lactose Intolerance
Celiac Disease Predisposition
MyInnerGo Weight+Sport

€185

Weight Management
Metabolism and Macronutrients
Caffeine
Lactose Intolerance
Celiac Disease Predisposition
Sport Performance
Micronutrients
MyInnerGo Sport

€135

Sport Performance
Micronutrients
How to order?
Taking a DNA sample is quick, easy, and painless!
Instructions and test kit will be sent conveniently to your home!
How to do our genetic tests?
1) Place an order
2) We will send you DNA test kit and instructions
3) Take your DNA sample
4) Send it back to our laboratory
5) Wait for your results
Watch and learn how to collect a saliva sample for DNA analysis.
ORDER
Why Choose Us?

Personalised
Personalised reports and expert recommendations

Secure
Secure and private online environment

Backed by science
Personalised reports and recommendations are based on up-to-date scientific research

Most genetic markers
Highest number of genetic markers analysed per each topic

International shipping
We offer worldwide shipping

Tested by many people
Many people in the world have used genetic testing and the feedback has been very positive
Recent blog posts
Articles about nutrition, sports, science and personal stories.
My name is Jorgen, I am 28 years old and practice the gymnastics rings supplemented by strength training. I have had a love for
This quick, easy, and healthy salad with chickpeas is perfect for a light meal. Chickpeas are a good source of plant-based prot
Try these gluten-free oven-baked potato boats with fresh salad for a delicious healthy meal. The recipe is suitable for vegetar
What Our Clients Say About Us
After taking the myInnerGo gene test and following the guidelines I started to lose weight and results were visible. I am very happy and now I know what kind of food my body needs to be healthy and beautiful. This test changed my lifestyle.
The information I got from the myInnerGo gene test has really opened my eyes to what I can potentially achieve! This for me is critical knowledge, knowing what your body doesn't like, what it doesn't need but also what it does need and uses best, it is like having the winning lotto ticket.
"myInnerGo has given me the ability to know my full potential, increase my strength, increase hypertrophy and all in all, makes me feel so much better about my training and nutrition. "