Frequently asked questions
What is the best time to take a DNA sample?
Collect the saliva sample at least 30 min post eating, drinking, smoking or brushing your teeth.
How long does a DNA test procedure take?
Taking a sample for a DNA test is quick and easy. It can be done conveniently at home and takes about 5 minutes.
How long does it take to get my DNA test results back?
After we have received your sample in our lab, it takes approximately 2-8 weeks to get the results.
Where do you ship?
We offer worldwide shipping. Unfortunately, we currently provide free postage on the return envelope for customers from within Estonia only. Our address is already printed on the returning envelope. Please consult your local post office for correct postage required to return your sample to us in Estonia.
What is in my DNA test kit?
Your DNA test kit contains:
– instructions and questionnaire
– plastic tube with preservation liquid and funnel
– personal code to register on our web page
– an envelope to send your sample and questionnaire back to us
How old do I have to be to order a genetic test?
You can order myInnerGo gene tests if you are at least 16 years old.
Are the genetic testing results reliable?
myInnerGo uses up-to-date genetic testing technology which is highly reliable. Interpretation of the gene test results is composed according to current scientific research, but we must highlight that scientific research is ongoing and there can be new information arising about the associations of the topics of interest and the genetic variants. Interpretations of the tests are based on studies that are mainly focused on people of European ancestry; therefore some analysis may not be applicable to individuals of non-European ancestry.
What happens to my DNA after the test?
Your DNA is securely destroyed in 2 months after analysing.
How to take a DNA sample?
Taking a DNA sample is quick, easy, and painless! Follow the instructions and and take a saliva sample.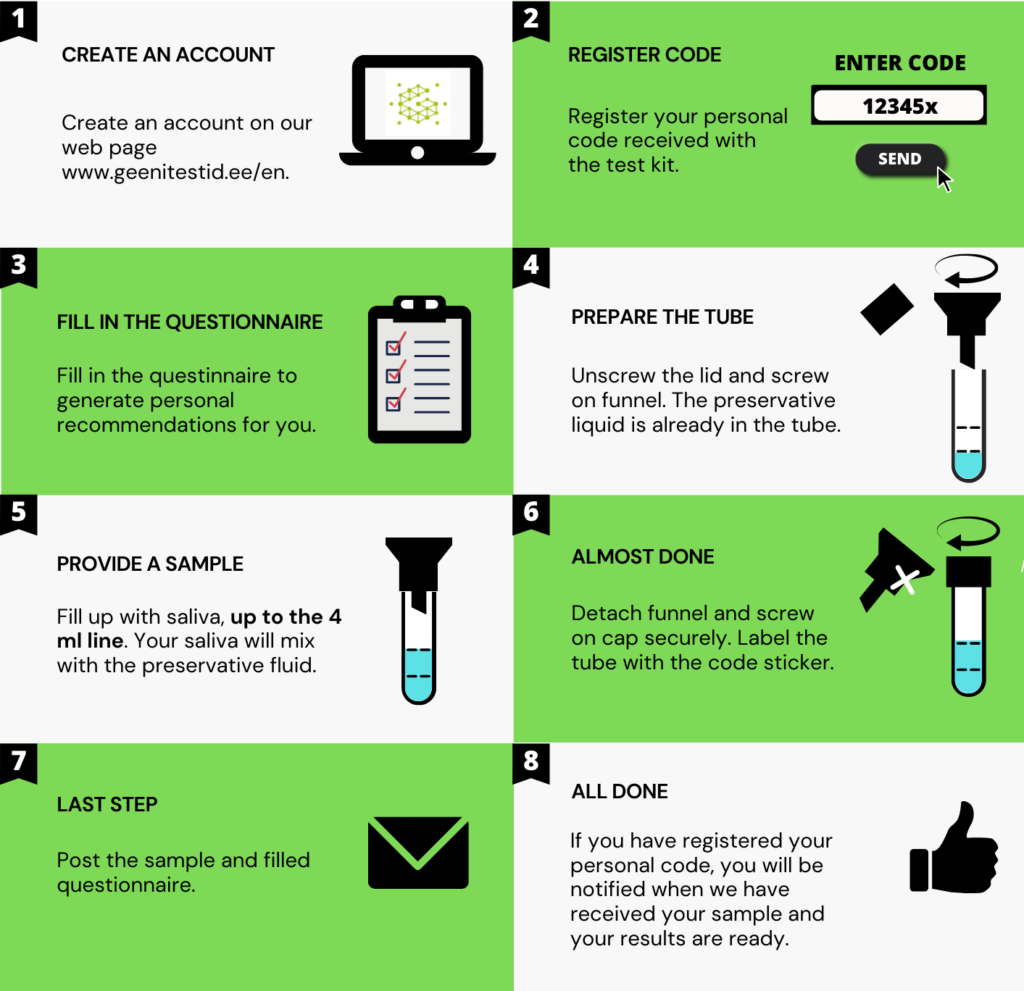 How can I see the results?
You will be notified by email when your results are ready. Log into your account and discover your inner code.